---
March 2022
In this article, Gerasimos Tsourapas provides the first detailed analysis of Greece's foreign policy response to the European migrant crisis, demonstrating the importance of forced displacement in the international politics of EU member states.
---
5 February 2022
While much literature has concentrated on the EU's policy to return people from within its borders, this article by Tamirace Fakhoury and Nora Stel seeks to understand how the EU cooperates with refugee-hosting states beyond its borders, in its 'Southern Neighbourhood', to uphold conditions for voluntary, safe and dignified returns.
---
January 2022
This essay by Fiona Adamson and Kelly Greenhill presents the concept of security entanglement, illustrates how it operates, and explores some of its theoretical and practical implications.
---
8 December 2021
Co-written by Martin Guzi, Martin Kahanec and Lucia Mýtna Kureková (EUBA), this paper looks at immigrant–native gaps in labor force participation, unemployment, low-skilled employment, and temporary employment and measures the contribution of institutional and policy contexts to the part of these gaps that cannot be explained by immigrant–native differences in characteristics. 
---
27 November 2021
Migration has become highly contentious. Turkey is no exception. Turkey faces even further challenges as the host to the world's largest refugee population, with Syrians as the majority. Fear about loss of control over borders, and its subsequent political, economic, social and cultural repercussions lies at the heart of migration debates. Parliamentary deliberations provide a public venue for airing these concerns. The paper co-written by Samet Apaydın and Meltem Müftüler-Baç (Sabanci University) focuses on Turkish Parliamentary deliberations on the Syrians to assess its issue salience.

---
16 November 2021
Building on the case of displacement from Syria, this article by Tamirace Fakhoury targets the EU's refugee approach in its 'neighborhood' as a site of contention whereby states, rather than being policy borrowers, dispute the EU's attempt to regulate regions
---
18 October 2021
In this paper, Gerasimos Tsourapas discusses how Middle East states across the Mediterranean have attempted, in some form or another, to secure material and nonmaterial concessions from the European Union (EU) and its member‐states by tying the management of forced migration to their diplomatic issue‐linkage strategies.
---
9 September 2021
This article by Tamirace Fakhoury sets out to contribute to the debate on how Arab refugee hosting states, generally regarded as norm recipients and recalcitrant implementers of refugee law, have sought to shape, localize, and reconfigure understandings and practices of asylum.
---
8 September 2021
Relative to their own populations, neighboring Jordan and Lebanon have hosted the most Syrians per capita. While both are small, middle-income, and resource-poor countries, the perception of their respective governance of Syrian refugees has been diametrically different. The main objective of this short intervention by André Bank and Christiane Fröhlich (GIGA)  is to evaluate both the 2016 Jordan Compact and the Lebanon Compact 5 years after their signing and to outline a more reflective potential EU policy approach.
---
13 August 2021
With the West's approach to vulnerable Afghans driven by a fixation on stopping migration at all costs, Luisa F. Freier (Universidad del Pacífico), Nicholas R. Micinski (University of Maine), and MAGYC's Gerasimos Tsourapas (University of Glasgow) identify the threatening global rise of refugee commodification.
---
27 July 2021
Drawing on 68 in-depth interviews conducted with Italians and Spaniards living in London and Berlin, Iraklis Dimitriadis and Fabio Quassoli argue that an individual's understanding of naturalisation within the EU context is based on two aspects: on one hand, a strictly pragmatic evaluation of the pros and cons of the new status; on the other, a new sense of belonging as well as new cultural and territorial identifications that intra-EU migrants are not often willing to experience.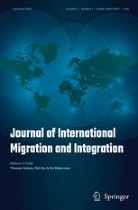 ---
27 June 2021
This article written by Meltem Müftüler-Baç aims to tackle the following questions: whether the externalization of European migration governance played a significant role in the redesign of Turkish migration governance, and whether this externalization uncovered new collaboration strategies for Turkey and the EU.
---
15 June 2021
This paper by Anastasia Blouchoutzi,  Dimitra Manou, and Jason Papathanasiou suggests the integration of a multiple criteria decision analysis method, namely PROMETHEE, for policy making with regard to migrant social exclusion. The authors argue that the method proposed could help policy makers to evaluate the effectiveness of the implemented policies, spot the discrepancies between policies and policy outcomes, and motivate knowledge sharing among the EU member states. The findings include a ten-year comparative list of the EU member states (2010–2019) driven by social inclusion indicators for the foreign-born (non-EU-born) population. The results are rather sensitive to changes in the data utilized but they provide an overall comparative picture of social inclusion policy effectiveness in the EU during the past decade.
---
Local "Battlegrounds". Relocating Multi-Level and Multi-Actor Governance of Immigration
June 2021
Moving beyond the MLG (multi-level governance) approach, this literature review by Iraklis Dimitriadis, Minke Hajer, Elena Fontanari and Maurizio Ambrosini focuses on studies regarding the local level in immigration governance. It considers local policies and administrative practices on the one hand, and the role of multiple civil society actors engaged in the reception of asylum seekers on the other.
---
9 April 2021
This study by Claudia Fry and Mine Islar from LUCSUS takes an in-depth look of Malmö, a city in Sweden which in 2015 became the centre for the Swedish refugee reception and solidarity initiatives and identifies challenges and opportunities of horizontal collaborations to develop the social dimension of city resilience.
---
11 January 2021 
In this article published on Ethnic and Racial Studies, Maurizio Ambrosini (Università degli Studi di Milano) contributes to the debate on asylum and immigration policies by elaborating the concept of "battleground" of asylum (and immigration) policies.
---
15 December 2020
Ján Liďák (College of International and Public Relations Prague) and Radoslav Štefančík (University of Economics Bratislava) aim to explain why, despite the negative attitude of the Slovak political elite to international migration and the stated interest in restrictive migration policy, the number of migrants with the permission to stay in Slovakia is increasing from year to year.
---
1 December 2020
In this article published on Cultures & Conflits, Shoshana Fine (ESPOL) reflects on "symbolic rewards" and governing migration between Turkey and the EU.
---
22 September 2020
In this chapter of the book "Migration at Work", Iraklis Dimitriadis (Università degli Studi di Milano) explores how subjective representations of work or life-related subjects may induce desires to leave the initial destination, or decisions for staying put. The chapter concludes that the analysis of imaginaries can inform on the motivations for onward migration.
---
17 September 2020
In this pager published on the Journal of Ethnic and Migration Studies, Basak Yavçan (The Hugo Observatory) and Fulya Memişoğlu identify the different logics of integration that operate in two refugee hosting municipalities of Istanbul.
---
4 September 2020
In this publication, Lea Müller-Funk (MAGYC) analyses how ethical reflections impact methodological choices when doing mixed methods research with refugees in fragile political contexts
---
8 June 2020
In this paper published on the Third World Quarterly,
Tamirace Fakhoury
discusses shifts in governing returns from the Lebanese state as the sole decision-maker to the dispersion of authority within competing structures.
---
The Urban Governance of Asylum as a "Battleground": Policies of Exclusion and Efforts of Inclusion in Italian Towns
12 March 2020
This article by Maurizio Ambrozini (UNIMI) argues that the governance of immigration, especially at local level, can be considered a "battleground" involving diverse actors.

---
6 March 2020 
In this working paper, Lea Müller-Funk (MAGYC) and Sonja Fransen (UvA) highlight the difference between return aspirations and coerced return.
---
6 January 2020
In this short piece, Veysi Dag (SOAS) reflects on his experience as a refugee researcher and on the frustrations experienced by refugees and asylum seekers when they speak with researchers. 
---
14 January 2020
This working paper by Tamirace Fakhoury (LAU) illustrates how supranational actors' agendas affect states' behaviour towards refugees and asylum policy-making on the one hand, and refugee rights, on the other.
---
31 December 2019 
In this paper, Ivana Dancáková and Monika Kochajdova (EUBA) analyse the EU migration governance in Eastern Europe.
---
24 October 2019
In this article, Fiona Adamson (SOAS) and Gerasimos Tsourapas (Sciences Po) explore the "Migration State" in the Global South and extend the concept by introducing a typology of migration management regimes.
---
4 May 2019
In this article, Gerasimos Tsourapas (Sciences Po) examines the workings of "refugee rentier states" and critiques policy approaches that frame forced displacement as an opportunity for the economic development of the Global South.
---
19 December 2018
In this article, Fiona Adamson (SOAS) and Gerasimos Tsourapas (Sciences Po) argue for the utility of Migration Diplomacy as a novel explanatory framework for theorising the interplay between foreign and migration policy-making
---
December 2018
In this article, Christiane Fröhlich (GIGA) focuses on the Syrian Crisis and humanitarian protection gaps in Lebanon, Jordan and Turkey.